COMMERCIAL PILOT LICENSE (CPL)
What does the CPL license allow you to do…
To fly for "hire or reward" and work for a Commercial Air Service in Canada it is required that the pilot hold the Commercial Pilot License (CPL). This opens the door to your career as a commercial pilot as you work your way towards your career goals. Typical entry level positions for pilots with a Commercial Pilot License (CPL) are as follows:
VFR Charter Air Taxi
IFR Charter Air Taxi
Photo Survey Pilot
Forest Fire Detection
Medical Evacuation
Airborne Traffic Watch
Airborne Banner Towing
Parachute Dropping
Forest Fire Suppression
Flight Instructor (with valid Instructors Rating)
Once the Commercial Pilot License has been attained, most of our graduates also hold the Multi‐IFR Rating and are truly ready for the "first job".
CPL Prerequisites
There are no special educational requirements other than a working knowledge of English or French.
CPL Requirements
A minimum of 200 hours total flight time and 100 hours Pilot in Command time including 20 hours X-Country.
18 Years of age.
Class 1 medical. Obtained from a Civil Aviation Medical Examiner.
All previous flight time counts toward the Commercial Pilot course.
Time Building may be required to reach the required time.
CPL Hours Breakdown
The Commercial course consists of 65 hours of flight training and 80 hours of ground school. The break-down includes a Night Endorsement and VFR-over-the-Top.
35 hours of dual instruction:

5 hours of X-Country
20 hours of instrument time.
5 hours dual night

30 hours of solo flight time

25 hours of general practice, including airwork, and radio communication
5 hours solo night
Straight line cross country of at least 300 nautical miles with landings at 3 airports other than the departure airport

A minimum of 80 hours ground school. Including instruction on Air Law, Meteorology, Navigation, and General Knowledge.
A Transport Canada Written and Flight test is required
Standardized Digital Flight Training Syllabus
Pro's digital training syllabus provides students with their entire training record online, grouped by lesson plans. Each lesson plan is carefully designed by industry expert team to prepare students to be successful pilots in today and tomorrow's aviation industry. Being able to see and review training progress online at any given time, helps students stay on track and come to their next lesson with confidence and better prepared. Lesson plans also give students all the information and reading references they need to know prior to each flight lesson, so students come prepared to maximize the learning efficiency during each lesson.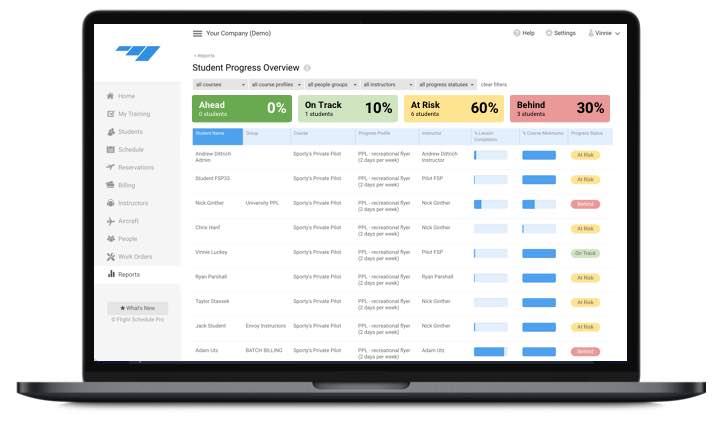 How fast can I get it done?
Training is at the student's pace and convenience. The course will take less than a year if full time, longer if part time.
Do I need to pay full program cost up front?
No, there is no need to prepay full program cost up front. Instead, you will pay as you go and be charged by "flight time". This is the time from engine start to engine stop. The hobbs meter in the aircraft keeps track of this time in .1 hour intervals (6-minute intervals). "Do I Need To Pay Full Program Cost Up Front" article explains why paying full program cost up front may not be a good idea.
Can International Students work in Canada after finishing CPL Training?
If you complete your CPL flight training with our school under a student visa/permit, you are eligible to apply for work permit and work in Canada. Because according to Government of Canada, to be eligible for a Post-graduation work permit (PGWP), you must meet one of these requirements:
You've completed a flight training course at a Canadian training centre and now have a Canadian commercial pilot's license, or
You have or you are in the process of getting an instructor's rating, and you have a job offer to work as a flight instructor at a flight training centre.
If you have more questions, feel free to contact us. More information can be obtained from Government of Canada website.
What is the Cost?
The table below is the minimum requirements and cost estimates for obtaining a Commercial Pilots License with Professional Flight Centre.
Transport Canada Required Minimums for Commercial Pilot License:
| | | |
| --- | --- | --- |
| Estimated Costs | Cessna 152 | Cessna 172 |
| Dual Training – 35 hours ($249 per/hour for C152, $268 per/hour for C172) | $8715.00 | $9380.00 |
| Solo Training – 30 hours ($171 per/hour for C152, $190 per/hour for C172) | $5130.00 | $5700.00 |
| Ground Briefing – 15 hours @ $78.00 | $1170.00 | $1170.00 |
| 3 Day CPL Written Seminar | $550.00 | $550.00 |
| Total Fees to Professional Flight Centre ($CAD): | $15565.00 | $16800.00 |
| Additional Flight Time | | |
| Up to 70 Hours Solo (Time Building to Reach 200 Hours Total Time) | $11970.00 | $13300.00 |
| Incidental Fees | | |
| VFR Course Manual | $187.00 | $187.00 |
| Flight Test Examiner Fee | $450.00 | $450.00 |
| License AP Fee | $240.00 | $240.00 |
| Transport Canada CPL Written Exam Fee | $120.00 | $120.00 |
| Transport Canada Licensing Fee | $80.00 | $80.00 |
| Total Incidental Fees ($CAD): | $1077.00 | $1077.00 |
| Total course estimate for the Commercial Pilot License ($CAD): | $28,612.00 | $31,177.00 |
(Effective June 12th, 2023)
NOTE:
The above estimate is based on Transport Canada minimums, any additional training required to meet standards will be billed at the applicable rate.
These prices do not include applicable taxes & fuel surcharges. Fuel surcharges are an extra fee charged by fuel companies to cover the fluctuating cost of fuel. Please contact us for latest fuel surcharges.
No taxes are collected for dual training on Commercial License, Instructor Rating and IFR rating.
All prices are in Canadian Dollars ($CAD). For conversion rates to your local currency click here.
Prices subject to change. Click here to learn about refund policy.
This Program has been approved by the Private Training Institutions Branch (PTIB) of the Ministry of Advanced Education, Skills and Training.
Frequently Asked Questions
Flight Training Videos
If a picture worth a thousand words, then a video is worth a thousand pictures! Professional Flight Centre is one of the very few flight schools that allow students to film during flight. Many of our students have recorded and shared flight training videos on social medias. These videos have helped many others to master and successfully complete their training. Check out our media page for training videos!
More questions?
Please visit our FAQ section that addresses more frequently asked questions regarding CPL and Flight Training. Feel free to contact us if you have further questions.