Many of our graduates choose to complete the Instructors Rating as it is a very safe way to enter the exciting world of commercial aviation.  We do our best to hire our graduates providing we have opportunities available and the candidate meets our requirements of safety, skill, personality, enthusiasm, and customer service.
Prerequisite
The candidate must hold a Commercial Licence.
The candidate must also hold a Class 1 Medical
Requirements
A minimum of 30 hours of dual flight training including 5 hours instrument training
25 hours Ground school required.
Transport Canada written examination and flight test is required.
How to Apply
Contact us at info(@)proifr.com.
Standardized Digital Flight Training Syllabus
Pro's digital training syllabus provides students with their entire training record online, grouped by lesson plans. Each lesson plan is carefully designed by industry expert team to prepare students to be successful pilots in today and tomorrow's aviation industry. Being able to see and review training progress online at any given time, helps students stay on track and come to their next lesson with confidence and better prepared. Lesson plans also give students all the information and reading references they need to know prior to each flight lesson, so students come prepared to maximize the learning efficiency during each lesson.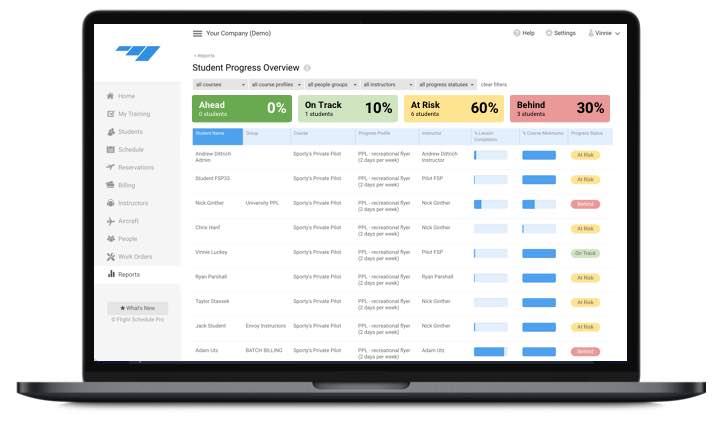 How long does this rating take to complete?
Training is at the student's pace and convenience. The course will take 4-5 months to complete.
What is the Cost?
Scroll down for minimum requirements and cost estimates for obtaining a Instructor Rating with Professional Flight Centre.
Transport Canada Required Minimums for Class IV Instructor Rating:
| | |
| --- | --- |
| C152 Dual Training – 30 hours @ $254.00 (with Class 1 Instructor) | $7620.00 |
| Ground Briefing – 25 hours @ $83.00 (with Class 1 Instructor) | $2075.00 |
| Books and Supplies | $105.00 |
| Total Fees to Professional Flight Centre ($CAD): | $9800.00 |
Incidental Fees:
| | |
| --- | --- |
| Transport Canada Flight Test Examiner Fee | $200.00 |
| License AP Fee | $150.00 |
| Transport Canada Written Exam Fee | $35.00 |
| Transport Canada Licensing Fee | $30.00 |
| Total Incidental Fees($CAD): | $415.00 |
| | |
| --- | --- |
| Total Instructor Rating Cost Estimate ($CAD): | $10215.00 |
(Effective June 12th, 2023)
NOTE:
These prices do not include applicable taxes & fuel surcharges. All prices are in Canadian Dollars ($CAD). For conversion rates to your local currency click here. Click here to learn about refund policy.
This Program has been approved by the Private Training Institutions Branch (PTIB) of the Ministry of Advanced Education, Skills and Training.
Frequently Asked Questions
Yes, we accept students from all over the world. Please visit International Student page for more information.
Yes! Professional Flight Centre provides Instructor and Dispatch positions to both domestic and International students. Please see Job Opportunity page for details.
Yes, training programs such as Commercial Pilot Licence, Multi-Engine, Instrument Rating, and Flight Instructor Rating are considered vocational training and can be used as a tax deduction.
No, there is no need to prepay full program cost up front. Instead, you will pay as you go and be charged by "flight time". This is the time from engine start to engine stop. The hobbs meter in the aircraft keeps track of this time in .1 hour intervals (6-minute intervals). This article explains why paying full program cost up front may not be a good idea.
International students who completes CPL or Instructor rating in Canada are eligible for Post-graduation Work Permit (PGWP) upon program completion. The length of the permit would be the total length it took to finish CPL and Instructor Rating.
More information can be obtained from Government of Canada website at here.
More questions?
Please visit our FAQ section that addresses more frequently asked questions regarding Instructor Rating and Flight Training. Feel free to contact us if you have further questions.